Professional Cat & Dog Grooming Services
Professional pet grooming helps keep pets looking and feeling neat, clean, and healthy – and saves you both time and energy.
Our experienced groomers are skilled at grooming all breeds, sizes, and shapes of dogs and cats. They are extremely gentle with every pet and meticulous in attending to every last detail of your pet's appearance.
Our expert staff can also take care of the stuff you don't want to, such as anal gland expression.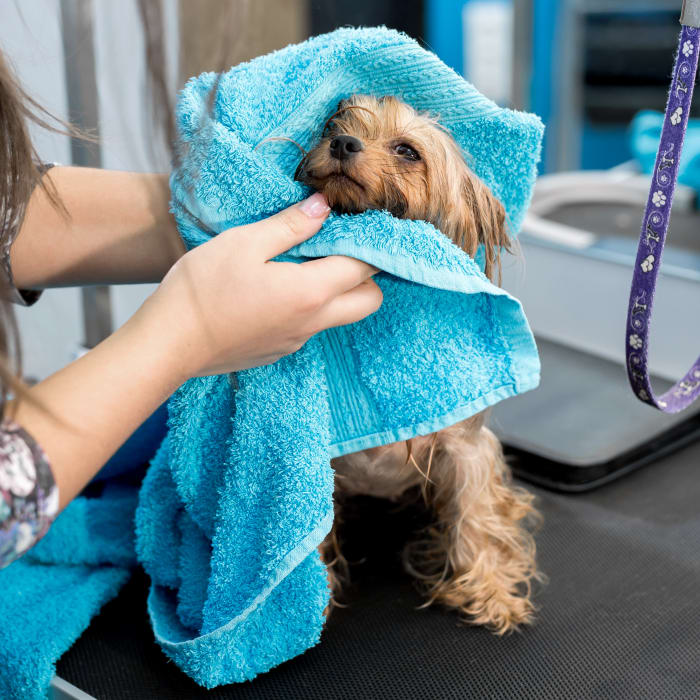 Putting Your Pet's Best Paw Forward
We offer professional pet grooming services at our animal hospital. Our professional groomer has the knowledge and experience to groom pets of all coat types and temperaments.
Dog & Cat Grooming FAQs
Read the answers to our most frequently asked questions about pet grooming at North Cobb Animal Hospital.
Bathing Services
If you'd like your pet to be cleaned, but don't feel like your pet needs a full grooming, you can call us to schedule bathing services only.
Our bathing services are available Monday, Tuesday, Thursday, and Friday and involve a shampoo, nail trim, brush, and blowdry.
We use a specially formulated pet shampoo to keep your cat or dog smelling good for 2 weeks!
Benefits of Bathing
There are several sanitary and dermatological benefits to regular bathing sessions for cats and dogs. Bathing:
Removes dirt & odor for cleaner skin and coat
Softens and conditions coat
Reduces shedding
Helps treat and reduce symptoms of any allergies & skin conditions
Helps us monitor your pet's health
New Patients Welcome
North Cobb Animal Hospital is accepting new patients! Our experienced vets are passionate about the health of Kennesaw companion animals. Get in touch today to book your pet's first appointment.